In 1997, Paul Rorem became the second editor of Lutheran Quarterly, new series, with Timothy Wengert joining the staff as Associate Editor, a partnership that continues into the thirtieth anniversary year.  Their first issue (LQ 11, Spring 1997) reflected a continuation of LQ's theological commitment to an emphasis on justification "by faith alone," with essays by Gerhard Forde, Gerhard Sauter, and Meg H. Madson, all on justification.  Over the years, Wengert has also contributed over twenty essays to the journal, and has edited special issues and books.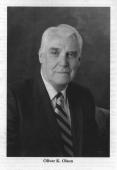 The Autumn issue of 1997 was a seventieth-birthday tribute to Oliver K. Olson, who has remained as President of
Lutheran Quarterly
, Inc. The Table of Contents indicates his breadth of interests, with all the essays written by his students.