1987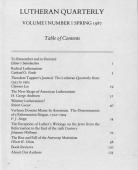 The first issue of Lutheran Quarterly, new series, contained Oliver K. Olson's "Editor's Introduction" and then a theological manifesto on the doctrinal direction of the journal by Gerhard Forde, "Radical Lutheranism." The first "Table of Contents," reflecting the 1986 conference, illustrates the combination of theological and historical studies characteristic of the journal throughout its history, with book reviews and no editorials.
Photo: The first table of contents for Lutheran Quarterly, new series.
With the re-appearance of Lutheran Quarterly came the first full-scale brochure, naming the Editorial Board, describing the publication, and inviting subscriptions. Carter Lindberg was identified as the first Book Review Editor, and continued in that role until 1998. Named Managing Editor was Virgil Thompson, who has been at that central post for all thirty years of publication.